4th July – I felt so relieved to finish my 100km 'trial' with Paul.  He was elated of course as he'd 'conquered' his 800km Camino without major problems and I had endured my part.  Been there, done that; not doing it again! I wasn't as prepared as I could have been so ended up looking like this after a couple of days (which only got worse as I stumbled along). Circulation problem apparently.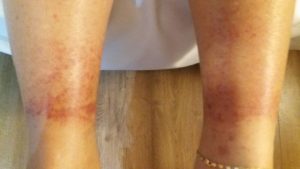 Didn't hurt, just looked unsightly. My Achilles problem didn't help either – unfortunately that's an ongoing thing which I will have to sort when we get home eventually.
We flew to Alicante a couple of days later and were hosted by our friend Vicky Merrett in Catral; she retired there from Kuwait where we met, and after a year,  is slowly feeling like that is her home now. Taking Spanish lessons is also helping her 'chat' to her neighbours as she's chosen to live 'local' rather than in some of the entirely British/non Spanish enclaves that the Costa del Sol is known for.  We got driven around visiting some beautiful hillside fortresses, beaches, pretty salt marshes with pink flamingos, cobble-stone streets in little villages, castles, lighthouses etc and generally were very well looked after. Thanks Vicky.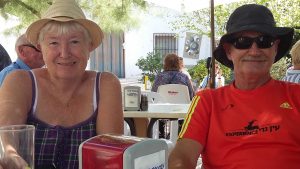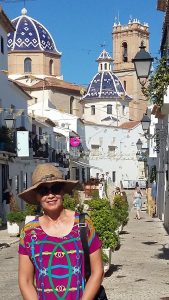 On to Barcelona, one of our favourite cities; 3rd visit in 3 years. We spent the 5 days visiting more of Gaudi's creations (the photo below is at Guell Park), the Joan Miro Foundation, the Pablo Picasso Museum, taking in the bars and restaurants of the city, going to an opera, walking and enjoying La Rambla, as per the photo of me (which I have to admit, I commented to Paul at the time we were there in mid July that this could be a target for terrorists and sadly, I was right!) and lying by the pool at our airport hotel on the last day. Adios to Espana for the time being – we'll be back one day.